The Greater Bridgton area consists of small communities, each lending its own unique style to the overall area. Though our charming towns and classic New England villages are small, we have all the services you may need. We take your fun, relaxation and business seriously, so check us out.
Four Seasons Four Reasons
Live, Work, Learn and Play
Enjoy the Lakes Region in every way
Playgrounds and beaches provide children an opportunity to have fun, make friends, get exercise and be physically challenged. From building sand castles to swimming, the fun and benefits of time spent at the beach are endless. There are playgrounds and beaches scattered throughout the Greater Bridgton Lakes Region Area for your enjoyment. And while you are at it, pack your picnic basket, grab a blanket and rediscover the boundless joy of eating in the great outdoors. Keep it simple and remember not to litter.
While you are at the beach, remember that we all love clean water. It only takes one boater to do immeasurable damage to our vulnerable ponds and lakes. Invasive water plants, such as milfoil, are spread by boats, which pick them up at one infested lake and carry them to another. Boat wash stations are available at some boat launch sites in the Greater Bridgton Lakes Region Area. And Courtesy Inspectors are often on hand to help inspect boats for plants. All launch sites include signs explaining the need for such inspections. After you've checked that your gas tank is full, your lunch is packed and your gear is stored, please check and remove any vegetation from your boat.
Though we've listed places to play, picnic and launch your boat, don't forget that we have plenty of other places to play during each season throughout the Greater Bridgton Lakes Region. For lists of hikes, bike rides, and other outdoor or indoor activities, be sure to check with the Chamber Information Center.
Bridgton – Saturday, 8 AM – 1 PM, May thru Dec., Depot Street, behind Reny's store
Harrison – Friday, 1:30 PM – 5:30 PM, mid-May thru Oct.. Rt. 35 between the town office & the town library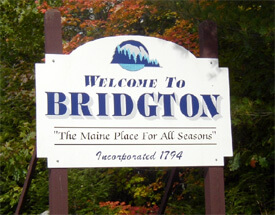 Visit the Town of Bridgton website – click HERE!
CLICK HERE TO FIND OUT MORE ABOUT BRIDGTON!
As the hub of the Greater Bridgton Lakes Region area, Bridgton is located approximately 35 miles west of Portland and 20 miles east of North Conway, N.H. on Route 302. The town is home to a drive-in movie theater, hiking and nature trails, community center, hospital, senior meals, four free public beaches and boat launches, Shawnee Peak Ski Area, two ice arenas, three museums, artists' studios and art galleries, five children's playgrounds, a country club, an active recreation program and many special events.
Special events include the Mushers' Bowl Winter Carnival, Big Night Celebration, July 4th concert, fireworks, road race and parade, Rowing Regatta, Art in the Park Show, Woodworkers and Artisans Show, seasonal Farmers' Market, a Festival of Lights and craft fairs throughout the year.
About 4,900 year-round residents live in this 68 square-mile town. Educational opportunities abound from pre-school through Senior College. Organizations include 4-H, Scouts, Rotary, Lions Club, PTA, Easy Riders Snowmobile Club, Lake Region ATV Club, Pleasant Mountain Ski Club, Bridgton Astronomy Club, Bridgton Historical Society, Red Hat Society, Lakeside Garden Club, antique bottles, bridge club and more. A diverse business community includes education, health, automotive, retail shops, restaurants, golfing, skiing, boating, antiques, craft and gift shops, realty and insurance, art galleries, construction and excavation, light manufacturing, tourism and the service industry.
Playgrounds: Highland Lake Beach, Bridgton Municipal Building, Jr. Harmon Ball Field, Woods Pond Beach, Bridgton Community Center, Stevens Brook Elementary School*
Beaches: Highland Lake, Woods Pond, Salmon Point, North Bridgton Beach
Picnic Areas: Highland Lake Beach, Woods Pond, Salmon Point, Willis Park, Sandy Creek
Boat Launches: Moose Pond, Highland Lake, Salmon Point, Woods Pond
Boat Washing Stations: West Bridgton Fire Station, Highland Lake, Woods Pond
FMI: www.bridgtonmaine.org; town office: 207.647.8756
*Not available during school hours.
Frances Howe Murals – Tucked away in the rear of the first floor of the historic Wales and Hamblen building on Main Street in Bridgton are the Frances Howe murals, considered to be Rufus Porter's finest work. Painted in 1838, the murals were rescued from the Howe home in Massachusetts prior to its demolition in 1965. They are the only murals known to be signed by both Rufus Porter and his son, Stephen Twombly Porter. More information is available at the Rufus Porter Museum in Bridgton.